This year, our August started with a beautiful wedding at Tupper Manor in Beverly, MA right outside of Boston. Jess and Chris were not strangers to us, as they are dear friends to our previous brides. We first met Jess at Sarah and Tony's wedding, Jess was a bridesmaid and as an amazing yoga instructor she was giving a little impromptu yoga class to the fellow bridesmaids to prepare everyone for the fun and exciting wedding day it ended up to be.
On her wedding day, Jess radiated calmness and of course we made a little time for yoga before the girls put on their beautiful blush pink bridesmaids dresses.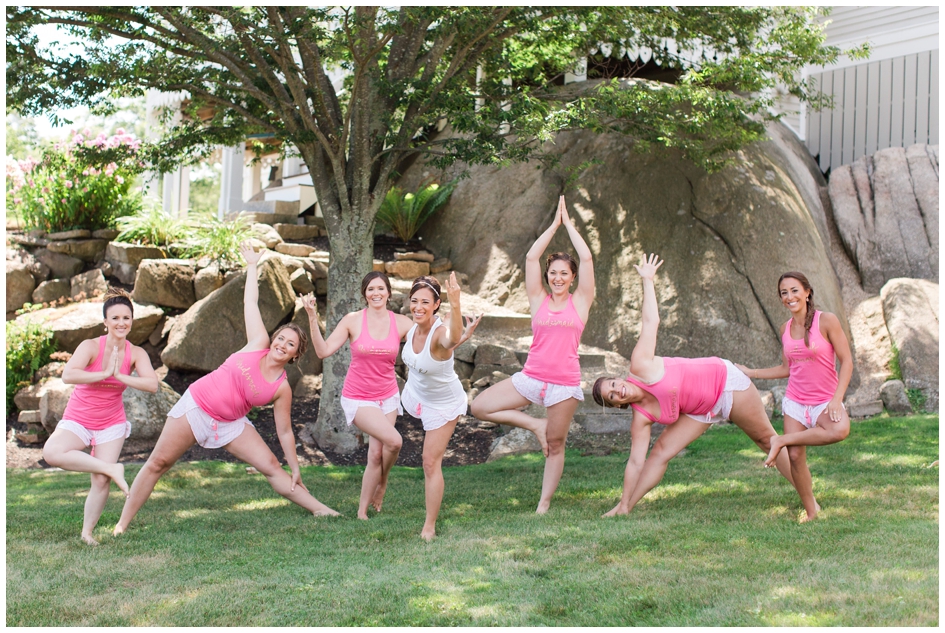 This yoga filled morning, followed with a perfect sunny day for the wedding that Jess and Chris had been dreaming of. The gorgeous Chuppah (a canopy beneath which Jewish marriage ceremonies are performed), that symbolizes the groom's home and the bride's new domain, looked amazing against the Manor's fountain backdrop. The florals decorated the ceremony and the reception room, which perfectly complemented the girls pink dresses and over all decor. Tupper Manor was the most perfect settings with an abundance of photo ops, featuring beautifully landscaped grounds surrounding the outdoors to a debonair billiard room and a grand staircase inside. If you haven't had a chance to, visit Tupper Manor and enjoy its elegance and the breathtaking sunset at its private beach.