Deciding what to wear for your engagement session is not something to be stressed over. Despite this, on the day of OUR engagement shoot, Jimmy and I had to remind ourselves, to have fun and remain relaxed. Trust me, it's easy to be overwhelmed when one finds themselves surrounded by a mass variety of clothes and shoes wondering "what are we supposed to wear?". Wanting to look good and feel confident in front of the camera can be a lot of added pressure, but at the end of the day, we remained true to ourselves and went with outfits we felt most comfortable in. From a photographer's point of view, we use an engagement session as a chance for us to spend some quality time together, while you warm up to being in-front of our cameras. We've given some basic advice about our approach to photography in some of our recent blog posts, but we'd like to focus today's post on a question we receive quite often: "What should we wear?" Below are some tips and advice to help make this step in the wedding planning journey a little easier.
Be yourself and look comfortable
Our favorite engagement sessions are the ones where our couples look and feel like they are enjoying themselves. When deciding what to wear for your session, pick an outfit that you feel comfortable in. It'll only bring out your unique style and personality. Get creative and be bold with your accessories. In the end no matter what you wear, whether it is those jeans you feel sexy in or a nice complimenting top, your comfortability and happiness will shine through and enhance your experience with us and the overall quality in your photos. Remember comfortability is imperative, after all, these may be the photos for your save the dates or even your wedding invites – the ones you blast all over your Facebook page. If you've got a dress you haven't worn in a while and are worried about squeeze into it or a pair of jeans that require a little shimmying to get into, those might not be the best options. Always keep in mind that the better you feel in what your wear, the better you will look and feel in front of the camera. Keep it simple.
Complement each other
Coordinating your outfits isn't a bad idea, but we feel strongly that if you don't match each other regularly, don't dress alike for the shoot. However, we aren't against wearing complementing colors that incorporate items with common shades and tonality. The couples below remained within the same color spectrum, while making their own personal additions of khaki and beige, with slight variations of blue. It's simple, clean and appealing to the eye.
Switch it up
Having a hard time choosing between a casual or formal look? Don't decide, do both! We encourage our couples along an additional outfit to switch things up. It helps for a change of location or just to add a little spice to the pictures. It gives more options when deciding what final photos to present and allows you guys to express yourselves a bit more. If you're unsure about what to wear, bring a few options to your shoot and we can give advice on which ones we feel would work best with the settings and backgrounds. Janeen and Seyi (photographed below) swapped outfits with ease, giving us a classy mix of around the town fun, and an elegant night out. Also check out their awesome outfit coordinating skills – Flawless.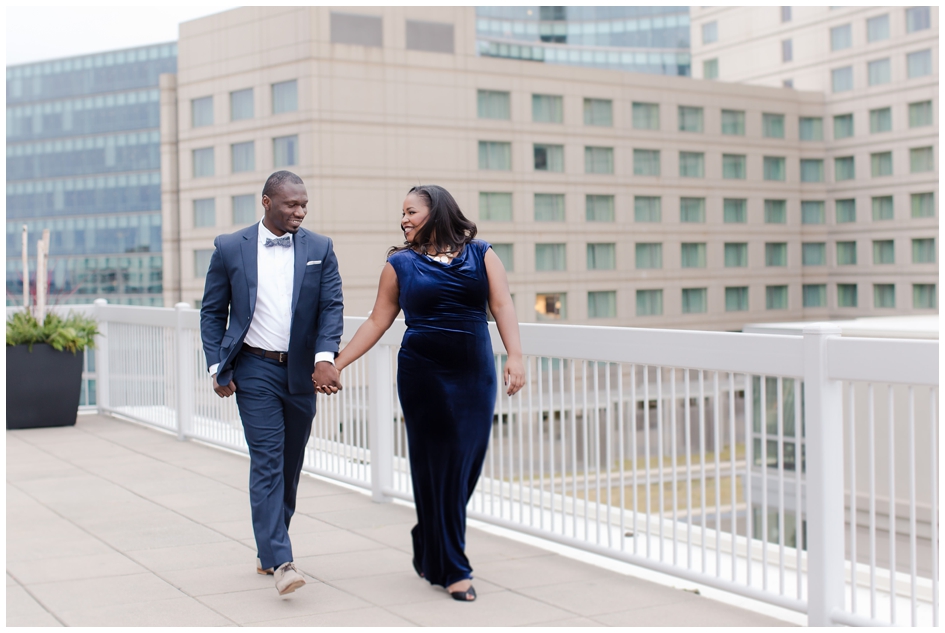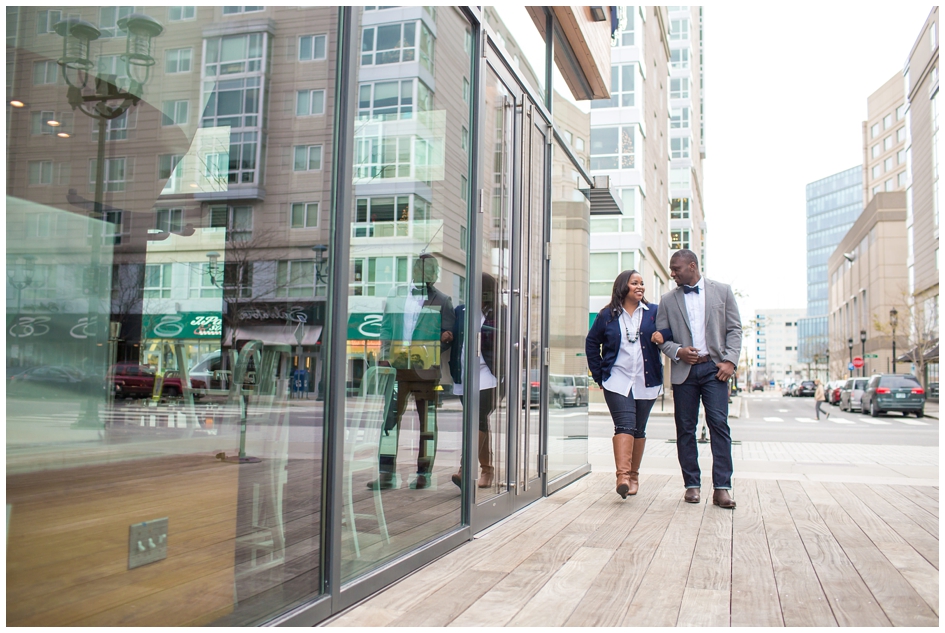 Layer and Accessorize
We find that layering clothes really adds an element to photography. Sometimes adding a blazer, cardigan, or some jewelry can totally complete your look. As we all know, the weather in the New England can change at the drop of a hat. To prevent an uncomfortable session, add some layers to your look. This helps in instances when deciding to walk or move to different spots. You don't want to break a sweat and have that show up in your photos. Layers also come in handy whenever you want to hide certain areas you wouldn't normally feel comfortable showing off (advice tip #1, comfortability is key). For guys, some good layer accessories could be adding a tie, vest, or switching shirt patterns. For women, it can be as simple as adding a cute solid or patterned scarf, or swapping out the heels for your favorite flats.
Have Fun
Don't worry, be happy…but seriously, leave all the worrying to us. Know that we aim to offer an unforgettable experience, with guaranteed fun while capturing you in your best natural state. Our goal is not to doll you up and make you unrecognizable. The goal is to have you look back at these photos and see yourself, totally lost in the moment, enjoying this new journey you are about to embark on as a couple. The engagement session is always fun and important because it gives the opportunity to practice before your wedding. So bring your style and big smiles.